Green is a versatile colour, entrenched in nature, and an earthy shade that can be worn all year-round. There are several colours that are easy to wear, and green can be one of them if you follow some smart tips.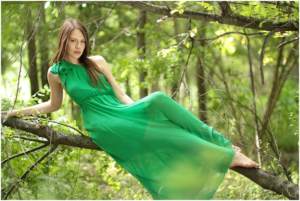 It's an all-season colour that can warm up any outfit, even a winter look. Don a dark military-style coat and a pair of black trousers with some gold statement jewelry, and you have a sophisticated day or evening outfit. Alternatively, you can accessorize a monochrome look with a smart green bag for casual outings or a green satchel for workwear.
Dressing to impress in green

A trench coat can be worn in all seasons. Maybe it's a rainy day and you want to dress to impress. If so, a light-colored trench coat teamed with a pair of jeans and flats or low heels are perfect. A skirt in a deep green hue is another good choice for winter weather. Choose a variety of fabrics, from leather to chiffon.
Get floral and go green for summer

Go floral and spring yourself up for summer. Create a green look by including florals – maybe a print blouse teamed with jeans and a stylish pair of flats. Fashionistas can style a darker shade of green with black and gold to create a cosmopolitan look. This combination is ideal for business meetings as it exudes sophistication. Partner gold bracelets with a smart green dress and a pair of kitten heels.
A green maxi dress is an ideal choice for lazy summer days and cool nights out. Fashionistas looking for a green maxi dress at AX Paris can order online at their convenience.
According to International Business Times, the Duchess of Cambridge is a fan of green. This shade is reportedly flattering to Kate's hair and skin tone, which is why she chooses this colour for many of her engagements.
Green bikinis are another popular look, whether they are monochrome or designed in a bold floral or jungle theme. Warmer seasons allow you to open the wardrobe and introduce your strappy dress, which can be worn with smart sandals or even flip flops if you are heading to the beach. Lightweight dresses are the perfect companions for summer parties or evenings out. If there's a chill in the air, pull on a pashmina.